PRODUCTS USED: Flexwall, PVC Strip Curtains
Mac's Shortbread Company has been producing Pure Butter Shortbread for the Australian market and Australian needs since 1965.
The family owned business is dedicated to producing only the finest Pure Butter Shortbread from an original recipe handed down over the years.

PROJECT OVERVIEW
Remax designed and installed a Flexwall factory partitioning system to contain heat produced by a new automated biscuit production line, recently installed at Mac's Shortbread Co. The structure was custom-fabricated to suit the existing building, and was installed around the production line.
Key requirements were
Separate heated production line from airconditioned line

Maintain visibility into production line

Minimise encroachment of floor space

Hygienic materials and construction to be suited to Food Production facility
CLIENT COMMENTS
"….installation of a new flexible partitioning system into an existing and operational food production line was always going to be a challenge. The Remax design and installation team was up to the mark, ensuring a very effective barrier was installed in difficult access circumstances. The effect of the new Flexwall barrier were felt immediately, with temperatures in the cool zone now easily controlled….." Mr Daniel McAlpin - Operations Manager

SCOPE OF WORKS
Design Consultancy and Planning

Made to measure fabrication of factory partitioning system, suspension and supporting steelwork, and flexible PVC stripdoors.

Delivery and installation.

PROJECT IMAGES
Freshly baked biscuits pass from heated production line to a cooled production line, through Flexwall Partition (left) and White Flexwall Partition with Clear PVC Stripdoors (Right).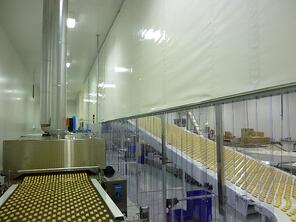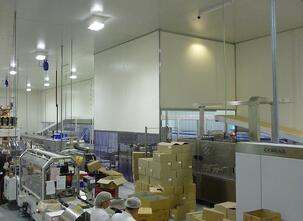 Partitioning accommodates the 'ins and outs' of a high tech food production line!
---
You May Also be Interested In:
Flexwall partitioning at Linpac Packagaing, to view the full project: Click here.